Transitioning Your Shapewear for Fall: High-Waisted Shaping Leggings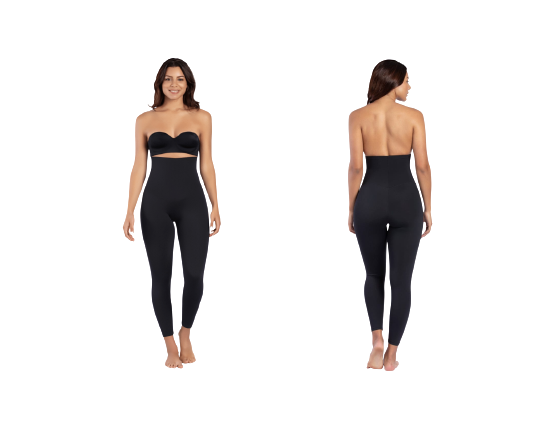 As the leaves change colors and the temperatures drop, it's time to revamp your wardrobe for fall! Say goodbye to your lightweight summer pieces and say hello to the cozy, High Waisted Shaping Leggings. These leggings are here to help you feel confident and comfortable throughout the fall season.
Created with an Internal Powernet Layer to Define the Waist
The High Waisted Shaping Leggings feature an internal Powernet layer that works its magic around your waist. This powerful yet comfortable layer helps define your waistline, providing a smooth and contoured silhouette.
Stay Comfortable and Confident in Fall with High Waisted Shaping Leggings
Fall activities often involve more movement, from long walks to apple picking with friends. The High Waisted Shaping Leggings are equipped with a silicone band that prevents rolling. This means you can move with ease and stay confident all day long. No need to constantly adjust your shapewear; these leggings have got you covered.
Experience Exceptional Comfort and Flexibility for Unrestricted Movement
Fall fashion calls for cozy sweaters and stylish boots, and these leggings are the perfect foundation for your autumn outfits. They offer exceptional comfort and flexibility, allowing you to move freely without any restrictions. Whether you're running errands, working out, or needing a new fashion staple, these leggings will keep you comfortable and confident.
Expertly Engineered to Control and Shape Your Silhouette with Precision
These High Waisted Shaping Leggings are expertly engineered to control and shape your silhouette with precision. They target problem areas without feeling constricting or uncomfortable. The result? A beautifully contoured figure that enhances your confidence in your fall attire.
As you transition into fall, don't forget to update your shapewear collection with our
High Waisted Shaping Leggings
. Their precision-crafted design, internal Powernet layer, silicone band for stay-put confidence, exceptional comfort, and expert engineering make them the perfect choice for the season. Embrace fall with style and confidence, knowing that you have the support you need to look and feel your best in all your fall adventures.