The Powernet Modeling Vest: Redefining Confidence and Comfort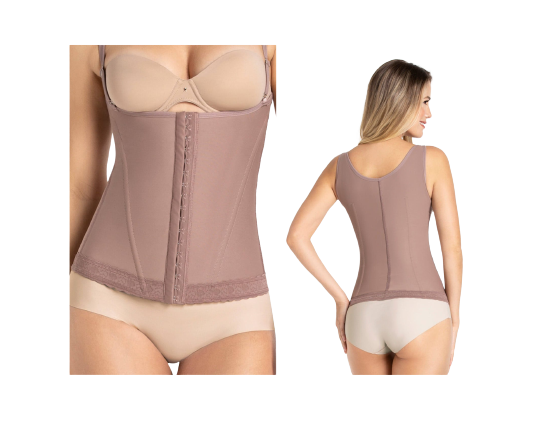 Finding comfortable shapewear to perfectly sculpt your figure can be difficult. However, with the Powernet Modeling Vest, you don't have to compromise on either. This amazing piece of shapewear is designed with features that promises to redefine your self-confidence and comfort.
Higher Back Design for a Sleeker Shape
The Powernet Modeling Vest

is crafted with a higher back design that does more than just provide support; it contours your back, delivering a sleeker, more confident shape. 
Wide Shoulder Straps for Enhanced Comfort
Comfort is key when it comes to shapewear, and this vest has you covered. Its wide shoulder straps distribute pressure evenly, ensuring they won't dig into your skin. Wear it all day long with ease, and forget you're even wearing shapewear.
Smooth, Soft Body-Lining for Absolute Comfort
Made from a smooth and soft fabric, this modeling vest prioritizes your comfort. The soft body-lining guarantees you stay comfortable throughout the day, giving you the best of both worlds: the confidence-boosting effects of shapewear and the blissful comfort of your favorite pajamas.
Front-Adjustable Hooks with Three Rows for Compression Control
Customization is key, and the

Powernet Modeling Vest

offers it greatly. Front-adjustable hooks give you the power to tailor your compression level, while the three rows of hooks ensure that you find the perfect fit. Say goodbye to one-size-fits-all solutions and hello to a shapewear piece that's uniquely yours.
Elegant Feminine Lace Hem Detail
Shapewear can be stylish and functional. The

Powernet Modeling Vest

has a feminine lace hem detail, it adds a touch of sophistication to your ensemble. This vest is the perfect blend of fashion and function, ensuring you feel beautiful inside and out.
The Powernet Modeling Vest is a game-changer in the world of shapewear. It merges style and functionality, so you can step out with confidence and ease, knowing you look and feel your absolute best.