Postpartum & Post-Op Support: How ILY Clothing Fajas Aid in Recovery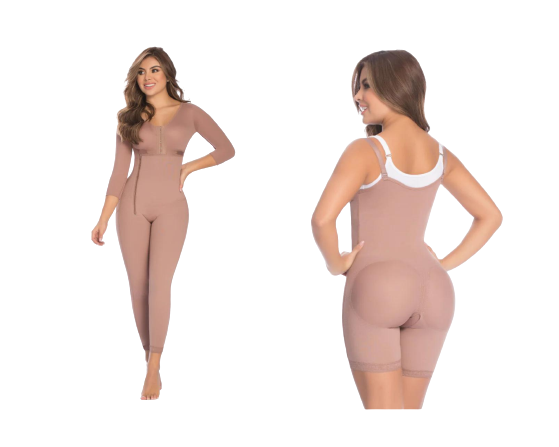 Postpartum Recovery Made Easier:
For new moms, the postpartum period can be both joyful and challenging. The body undergoes significant changes during pregnancy, and postpartum swelling is a common occurrence. ILY Clothing fajas offer gentle compression to reduce swelling, support the body core, and stabilize the abdominal area. By doing so, they aid in improving mobility and posture, which is essential for new moms as they tend to experience back pain and discomfort. Wearing fajas can provide much-needed relief, allowing new moms to focus on caring for their newborns without unnecessary discomfort.
Natural Birth: A faja with hooks is an excellent choice. These fajas offer adjustable compression and support for the abdominal area, helping to reduce postpartum swelling and provide stability as your body heals.
C-Section: If you have undergone a C-section, a faja with a zipper on the side is recommended. This design allows you to put on the faja without causing discomfort or irritation to the incision site. The side zipper ensures you can wear the faja comfortably without putting pressure on the C-section area.
Post-Op Comfort and Healing:
For those who have recently undergone surgery, post-operative fajas are intimate garments designed to enhance the recovery process. These compression fajas play a vital role in healing by keeping the wound securely closed and preventing the formation of folds. The compression effect also aids in preventing stitches from coming loose and alleviates the pain that can be caused by sudden movements. ILY Clothing fajas provide gentle support and stability, making the post-operative recovery journey smoother and more comfortable.
Brazilian Butt Lift (BBL): Following a BBL or any type of transfer surgery, mid-length to long shorts are ideal. These fajas are specifically designed to protect and support the newly transferred fat while allowing you to maintain a comfortable posture during the recovery period.
Liposuction: A faja with 3 or 4 hooks and no wire is the most suitable option. The multiple hooks allow for adjustable compression, which is essential for reducing swelling and supporting the treated areas. The absence of wires ensures comfort and flexibility during the healing process.
Versatility and Long-Term Use:
ILY Clothing Fajas are not only beneficial during the immediate postpartum or post-operative period but can also be worn for an extended duration. Some women continue wearing fajas for weeks or even months after childbirth or surgery due to their incredible comfort and support. Their versatility allows individuals to incorporate them seamlessly into their daily routine, providing continuous assistance as they recover.
ILY Clothing Fajas prove to be invaluable companions during the postpartum and post-operative recovery periods. From reducing swelling and stabilizing the body core to enhancing mobility and posture, these compression garments offer a wide array of benefits. They provide comfort, support, and peace of mind, allowing new moms and post-operative patients to focus on healing and embracing their recovery journey with confidence. Whether it's the postpartum period or after undergoing surgery, ILY Clothing Fajas truly exemplify the notion of "comfort with care."
Embrace the healing power of these compression garments and experience a smoother path to recovery.