ILY Clothing's TikTok Shop: The Colombian Latex Waist Trainer Dominates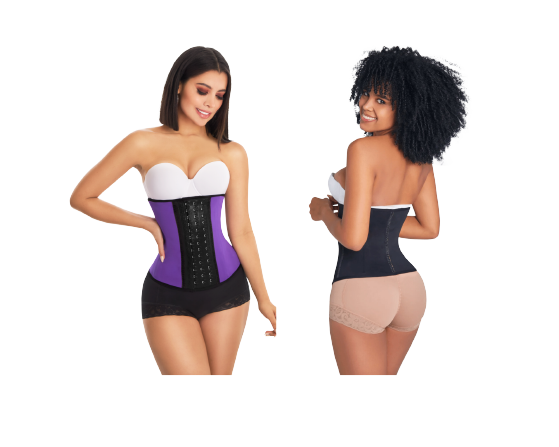 Did you know that ILY Clothing has a TikTok shop? Among the remarkable product lineup, the Colombian Latex Waist Trainer has emerged as the undeniable best-seller, capturing the hearts of countless shoppers. Let's explore why this waist trainer has become a must-have for those seeking both comfort and an hourglass silhouette.
Strapless, Waist-Shaping Design
The Colombian Latex Waist Trainer boasts a strapless design that is perfect for discreet wear under any clothing. It provides gentle but effective waist-shaping, helping you achieve that coveted hourglass figure effortlessly.
Flexible Boning System for No-Roll Comfort
One of the standout features of this waist trainer is its flexible boning system. This ensures a snug fit but also prevents any uncomfortable rolling or bunching, allowing you to move freely throughout your day.
Seamlessly Discreet Under Clothing
Whether you're dressing up for a special occasion or just going about your daily routine, this waist trainer remains seamlessly discreet under your clothing. You can confidently wear it with any outfit, knowing it will not show under your clothes. 
The Benefits of Wearing a Latex Waist Trainer at the Gym
You can even wear the Colombian Latex Waist Trainer at the gym as it increases your sweat level and helps stimulate weight loss. This waist trainer is designed to increase your body's temperature, causing you to sweat more. Adding a latex waist trainer to your fitness journey will help you achieve the goals you set in mind! 
3-in-1 Sizing Versatility
ILY Clothing understands that every body is unique. The Colombian Latex Waist Trainer offers 3-in-1 sizing versatility, allowing you to find the perfect fit and level of compression for your comfort and body-shaping goals so if your weight fluctuates, you do not need to replace your beloved waist trainer!
Enhanced Back and Posture Support
Not only does this waist trainer enhance your curves, but it also provides superior back and posture support. Say goodbye to slouching and hello to improved posture and confidence!
Latex Core with Cotton Outer and Lining for Unparalleled Comfort
The secret to the exceptional comfort of the Colombian Latex Waist Trainer lies in its construction. It features a latex core, surrounded by a soft and breathable cotton outer layer. The cotton lining further enhances comfort, ensuring you can wear it for extended periods without discomfort.
Interior Latex Panel for Exceptional Control
For those seeking maximum control and shaping, this waist trainer includes an interior latex panel. This feature targets problem areas with precision, giving you the confidence to flaunt your curves.
The Colombian Latex Waist Trainer by ILY Clothing
ILY Clothing's Colombian Latex Waist Trainer has taken TikTok Shop by storm, thanks to its strapless, hourglass-enhancing design, comfortable boning system, and discreet wearability. Whether you're dressing up or just want to feel more confident in your everyday attire, this waist trainer is a versatile, must-have addition to your shapewear collection. 
Shop now at ILY Clothing and experience comfort, control, and confidence like never before! 
TikTok Shop
:
https://www.tiktok.com/@ilyclothing_