Fajas Aren't Just for Women: Explore the Wonders of ILY's Men's Fajas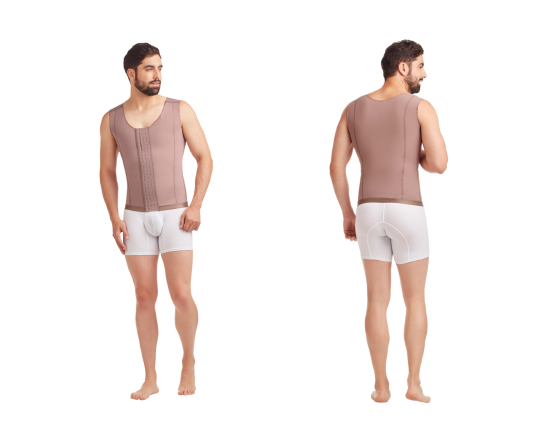 Explore ILY Clothing's groundbreaking Men's Adjustable Vest Faja, designed to provide exceptional back support for men seeking a pain-free workday experience. Flatten and stabilize your abdominal area while achieving a polished look under any outfit. Our high-compression garment ensures day-long comfort and posture support.
Tailored Fit, Effortless Elegance
Experience unparalleled fit without the hassle. The Men's Adjustable Vest Faja features an innovative three-size-in-one design, guaranteeing a perfect fit. Enjoy supreme comfort, effective shaping, and relief from back pain. Customize your fit using adjustable hooks on the shoulder straps and vest. Whether you desire improved posture, a sleeker silhouette, or all-day reinforcement, this vest faja has you covered.
Empowering Active Lifestyles
Designed for dynamic men, our vest faja is more than support – it's a posture-enhancing system. Tackle rigorous tasks with stability and alignment, prioritizing your body's well-being. From work to leisure, the Men's Adjustable Vest Faja seamlessly complements your day, fusing versatility, comfort, and utility—a must-have for the modern man.
Empowerment through Design
At ILY Clothing, we're dedicated to empowering men with confidence and comfort. Our Men's Adjustable Vest Faja merges cutting-edge design and top-quality materials for a transformational experience.
Don't let back pain define your day. Embrace ILY's Men's Faja for the support you deserve.
Shop now: https://ilyclothing.com/collections/mens/products/adjustable-mens-vest