Embrace Versatility and Confidence with the Tank Top Shaper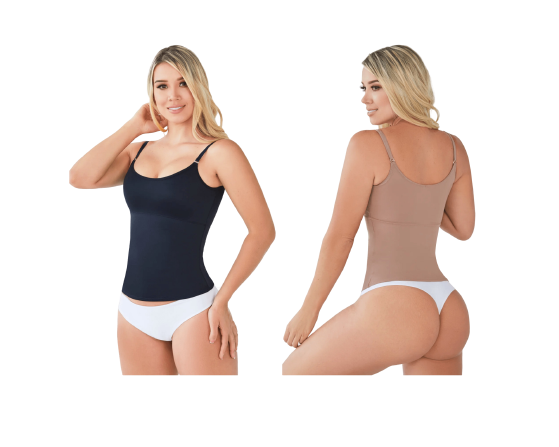 Are you ready to revolutionize your wardrobe and feel your absolute best? Look no further than the Tank Top Shaper, a versatile garment that will not only boost your confidence but also elevate your style game. 
Versatile Wear: The Tank Top Shaper is more than just shapewear; it's a stylish tank top and a discreet undergarment combined into one. It seamlessly transitions from a fashionable top to a supportive underlayer for any outfit, ensuring you're always ready for any occasion.
Reversible Design: With the option of a V-Neck or Scoop Neck styling, this shaper allows you to adapt your look to suit your outfit or mood, providing you with endless styling possibilities.
Dual Compression Fabric: Crafted with dual compression fabric, this shaper offers a firm and toned fit that enhances your natural curves, providing support in all the right places.
Luxuriously Soft and Stretchy: The Tank Top Shaper boasts a luxuriously soft, stretchy, and smooth textured material that feels heavenly against your skin. You'll love how comfortable and confident you feel all day long.
Refreshing Cooling Sensation: Its lightweight fabric is designed to provide a refreshing cooling sensation, ensuring you stay comfortable even during the warmest days.
Intelligent Compression Technology: Crafted from premium materials, the Tank Top Shaper features intelligent compression technology that enhances your figure while ensuring comfort and breathability.
Customizable Fit: Thanks to adjustable straps, you can customize the fit to your ideal comfort level, ensuring that it feels just right for you.
Say hello to a wardrobe transformation and a more confident you! Embrace a newfound sense of confidence and versatility with the Tank Top Shaper. It's time to look and feel your best, effortlessly and stylishly. 
Shop now
at ILY Clothing!