Discover ILY Clothing's New Bestsellers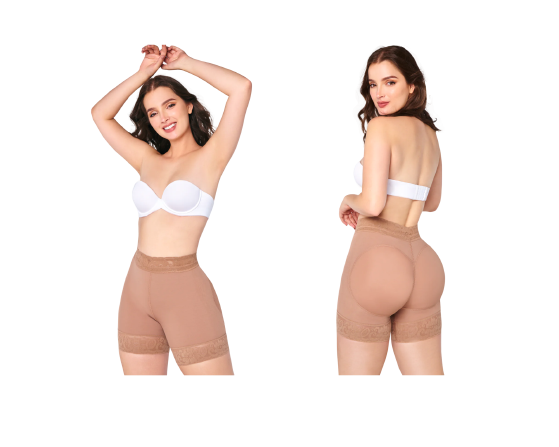 In the world of fashion, confidence is key. And what better way to boost your confidence than with the latest shapewear from ILY Clothing? Introducing our bestsellers, designed to make you feel comfortable, confident, and fabulous no matter the occasion.
Strapless Body Shaper
The Strapless Body Shaper is expertly designed to shape your underbust, waist, hips, glutes, and thighs, giving you a flawless silhouette. Whether you're attending a cocktail party or a formal event, this body shaper will be your best friend. It's comfortable, slides on smoothly, and features a slip-resistant under-bust lining that stays in place all day or night. Plus, the silicone lace trim adds a touch of elegance to your look while ensuring the undergarment doesn't roll down. It's a staple that every wardrobe deserves!
Side Body Zipper
Our Side Body Zipper shapewear is all about customization and security. With adjustable straps, an open gusset, and hooks/clasps that hold everything together securely, you can tailor the fit to your liking. The powernet exterior material can withstand hours of wear, and the silicone-lined hem prevents the shorts from riding up. This shapewear piece is a staple for a seamless appearance.
Colombian Latex Waist Trainer
Achieve the hourglass silhouette with our Colombian Latex Waist Trainer. This strapless piece is designed to shape your waist while providing flexible boning for a comfortable, no-roll experience. This waist trainer is perfect for everyday and even stimulates weight loss, you can even wear it to the gym! It seamlessly disappears under clothing and offers 3-in-1 sizing versatility. Plus, it enhances your back and posture support, ensuring you stand tall and confident. With its latex core and cotton outer and lining, you'll experience comfort that lasts all day.
Shorts Gluteus Enhancer
Our number #1 best-selling in store item, enhances your hips and glutes. Our Shorts Gluteus Enhancer shorts are invisible under your clothes, making them perfect for any outfit. The internal fabric, made of lycra and spandex, ensures a comfortable fit, while the silicone lace and specially engineered boning keep the shorts in place, eliminating any rolling down.
Shop at ILY Clothing
At ILY Clothing, we believe that shapewear should empower you, not restrict you. Our bestsellers are designed to do just that. They offer comfort, style, and confidence, so you can conquer the world with ease. Whether you're looking for an hourglass silhouette, enhanced curves, or a secure fit, our shapewear collection has you covered. Elevate your wardrobe and your confidence with ILY Clothing's best-selling products today.