Complete Coverage Full Body Garment: Great for Shaping and Post-Surgery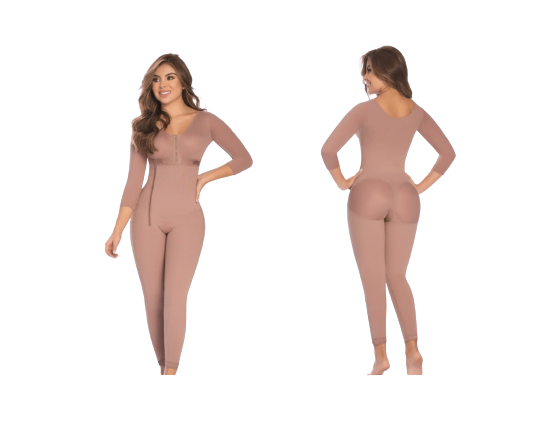 When it comes to picking a faja, at times it may seem overwhelming. Many need one for post-surgical recovery or even for everyday shaping. That's where the Complete Coverage Full Body garment comes into play. This garment is expertly designed to provide unparalleled shaping and support, ensuring a flattering and comfortable fit for anyone, especially those recovering from surgery. Its innovative design and premium materials make it an ideal choice for post-surgery recovery. This high compression, versatile post-surgical garment is designed to cater to various procedures such as breast augmentation, liposuction, tummy tucks, Brazilian Butt Lift (BBL), and more.
Especially during the colder seasons, this versatile garment offers many standout features as it has the ability to help you achieve a sleek and streamlined silhouette. The high compression and waist reduction offered by this garment are essential for shaping and enhancing your body post-surgery. Whether you're aiming for that hourglass figure or an enhanced butt, this garment has got you covered.
What truly sets the Complete Coverage Full Body apart is its tailored design. Made from soft, super-stretchy Lycra material, it naturally shapes and enhances your glutes, The premium compression not only provides waist reduction but also enhances your glutes, ensuring an amazing result.
Another advantage of this garment is the ample back coverage it offers, giving you added confidence and support during the recovery process. It's a discreet and comfortable solution that doesn't compromise on style or function.
The Complete Coverage Full Body garment is the ideal choice for those seeking a post-surgical garment that offers exceptional stretch, support, and tailored design. Whether you're recovering from breast augmentation, liposuction, a tummy tuck, or a Brazilian Butt Lift, this garment will help you on your journey to a more confident and enhanced you.
Shop now at ILY Clothing!